Myanmar's Suu Kyi cautions on 'reckless optimism'
June 1, 2012 -- Updated 1003 GMT (1803 HKT)
STORY HIGHLIGHTS
Aung San Suu Kyi addresses World Economic Forum in Bangkok
Pro-democracy campaigner warns against 'reckless optimism' over Myanmar's reforms
Suu Kyi is in Thailand on her first foreign trip abroad in 24 years
She was elected to Parliament in April less than two years after her release from house arrest
(CNN) -- From her seat on the stage at the World Economic Forum, Myanmar opposition leader Aung San Suu Kyi told a packed room what she was thinking as her plane prepared to land in Thailand for her first foreign trip in 24 years.


The Nobel laureate said she was sitting in the cockpit at the invitation of the pilot and was "completely fascinated" by the shimmering lights of Bangkok on the ground below.

"I thought, 30 years ago, the scene that met my eyes on landing in Bangkok would not have been very different from what would have met my eyes on landing in Rangoon. But now the difference is considerable," she said.

On leaving Myanmar three days ago for an historic trip to Thailand, Suu Kyi said locals were holding candlelight protests across the country against electricity cuts "that have been plaguing us for a month or so."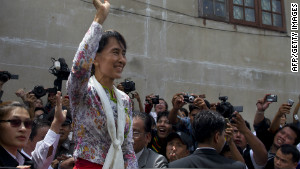 Workers welcome Suu Kyi as 'savior'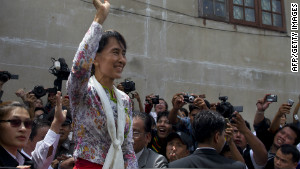 Workers welcome Suu Kyi as 'savior'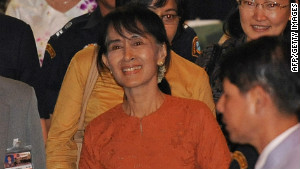 Suu Kyi begins historic overseas trip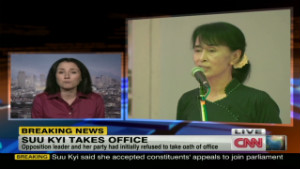 Aung San Suu Kyi takes oath of office
Of seeing the lights of Bangkok, Suu Kyi paused, smiled and said, "I have to say very frankly that what went through my mind is that 'we need an energy policy'."
A ripple of laughter and applause ran through the audience in recognition of Suu Kyi's enduring commitment to change in a country ruled for 50 years by a military junta. For many of those years, she was held under house arrest for daring to call for reforms.
During that time, Myanmar's moribund economy forced millions to leave the country in search of work in neighboring countries. Human rights groups estimate there are around three million Burmese migrants in Thailand alone.
Suu Kyi, the founder of Myanmar's National League for Democracy party, has received a celebrity's welcome on her first foreign trip since winning a seat in Parliament in April. Her ability to leave Myanmar safe in the knowledge she can return marks another step forward for a government which in the past two years has made a number of surprising concessions.
In the run-up to the first free and fair elections in decades, opposition parties were allowed to campaign. Suu Kyi was even given a platform on state television and radio.
In the months before, the government pardoned hundreds of political prisoners, secured a ceasefire with Karen rebels and agreed to negotiate with other ethnic rebel groups. The concessions prompted many Western governments to review their long-standing economic sanctions against the country.
However, despite all the changes, Suu Kyi has warned against what she called "reckless optimism" about the country's current pace of reform. "Optimism is good but it should be cautious optimism. I have come across reckless optimism. A little bit of healthy skepticism is in order," she said.
Optimism is good but it should be cautious optimism. I have come across reckless optimism
Aung San Suu Kyi
Suu Kyi said that the priorities for the country were basic education and the rule of law. "We need the kind of education that will allow people to make a decent living for themselves."
The NLD leader said Myanmar was not short of good laws, but that the country lacked a "clean and independent judicial system" to uphold them. She urged potential investors to keep that in mind so that any money plowed into the country aided, not hindered, its progress.
"We do not want investment to mean more possibilities for corruption," she said. "We do not want investment to mean greater inequality. And we do not want investment to mean greater privileges for those already privileged."
Suu Kyi's visit to Bangkok comes ahead of a longer trip to Europe in June during which she will make a series of key addresses, including the acceptance speech for the Nobel Peace Prize that she was prevented from collecting in 1991 because she was in detention.